American horse sports were born in the earliest colonies of Virginia
Horse racing, riding horses over fences and horse showing antedate the history of the United States. The first settlers in the earliest American colonies of Virginia enjoyed racing their horses. It was one of the few accepted sports of the time. These races tended to be casual affairs and were run over comparatively short distances. With no proper tracks or facilities, they generally took place on whatever pathways existed.

America's oldest recognized hunt club, Princess Anne Hunt, began hunting fox with hounds in the 1600's in historic Princess Anne County (now Virginia Beach). Fox hunting involves running with hounds across natural and manmade obstacles. Today, the original PAH club building is a private residence known as the William Wood House - and is located on Hunt Club Farm.

Early America was primarily agrarian, so, many colonist's quality of life depended on hunting and riding skills. They soon grew keen on challenging their neighbors to horse jumping competitions, in order to prove who had the finest jumper and who was most skilled at riding over fences.

As Colonial Virginia prospered, horse breeders sought to import more of the new English breed, the Thoroughbred, to blend with the local American bloodlines and fast Indian ponies. Bulle Rock, the very first Thoroughbred imported, arrived in Virginia in 1730.

Breckenridge Manor's Chris Wynne onboard Malcolm X (American Thoroughbred)
In 1798, when English racing legend Diomed retired at age 21, he was imported to Virginia. Considered over the hill in England, the stallion rapidly rose to the top in America. He was a super-star in the racing world and his arrival was highly anticipated by Virginia horse breeders. Diomed arrived sound and in good shape ~ much to his credit, he lived very comfortably for another 10 years and was able to sire enough progeny to be considered the father of the American Thoroughbred (Va. Horse Industry Board).
Virginia continues to celebrate its legendary equine heritage and its promising future at the Upperville Colt and Horse Show.
According the the official Upperville CHS website, "...Heretofore, horses - particularly stallions - had been exhibited for prizes at country and state fairs, but it is believed and accepted that the horse show, as a separate entity, was introduced on the American sporting scene at Upperville, Virginia in 1853."
Fun Links:
Visit Vashowjumping.com @ the horse show!
VaShowjumping @ the $100K Moore Cadillac Classic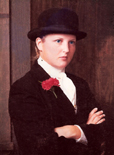 Your Webmistress ~ 1978
ã vashowjumping.com and Urbane Creations 2010. All rights reserved.